World Cup Contest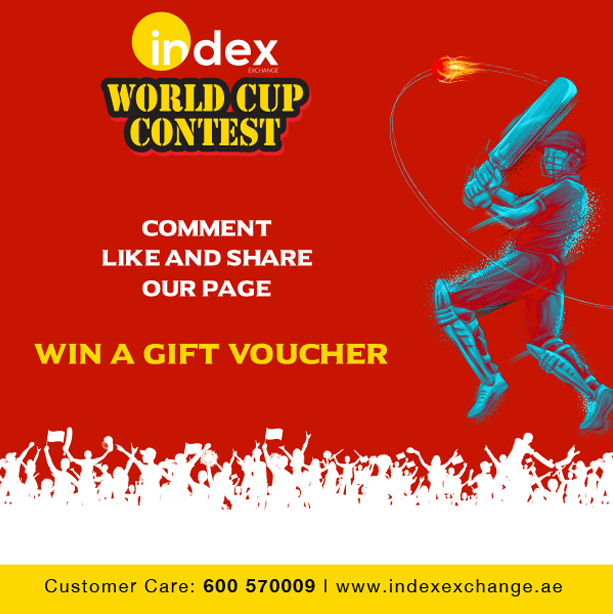 World Cup Contest
Index Exchange – " Terms and Conditions"
Only valid bank remittance transactions will be considered for the draw.
Customers who make valid remittance transactions during the campaign period and like our facebook page will be eligible for this offer, provided they register their submissions as per defined process explained on www.indexexchange.ae or www.facebook.com/indexexchangeuae
Individual foreign currency transfers worth AED 10,000/- and above will be eligible for the draws.
Cancelled transactions will not be considered for the draw.
Winners has to claim & collect the prize within 60 days of winner's list announcements at Index exchange social media pages and website.
Transactions conducted during the promotion period only will be considered for the Gift Items.
Index Exchange reserves the right to cancel or amend the terms and conditions in its absolute discretion with / without prior notice, due to unusual / unforeseeable events beyond the Company's reasonable control including, but not limited to, any actual, anticipated or alleged breach of any applicable law or regulation.
The Company shall not be liable to perform any of its obligations under the promotion campaign where it is unable to do so as a result of circumstances beyond its reasonable control and shall not be liable to compensate the participant in such circumstances.
In the event of any dispute regarding the terms and conditions or the conduct, results or any other matter relating to the Promotion, the decision of Index Exchange shall be final and binding and no further correspondence or discussion shall be entered into nor shall be challenged in any court of law.
Index Exchange will be using winner's names & photos to announce the details in the website and public platforms which also includes the social media pages.
Index Exchange will be appointing agents/agency for the distribution of fliers.
Index Exchange will be displaying the promotion content at the branches and front glass area.
Read Terms And Conditions